TAIPEI — In mid-April, a report entitled "Another Unlikely Pandemic Shortage: Boba Tea" appeared inThe New York Times. This rang alarm bells for fans of the great Taiwanese delicacy, also called bubble tea, milk tea or Zhenzhu Naicha in Mandarin Chinese. The bad news came just as the weather was warming up, the tensions brought about by COVID-19 were easing, and the food and beverage industry was hoping for a pick-up in business.
The global pandemic caused a major shortage in the supply chain of tapioca pearls, bubble tea's most important ingredient that sets it apart from other beverages. More than 90 % of tapioca starch comes from Taiwan, as the three partners of Boba Guys, a franchise chain, explained to their clients in an Instagram post.
Bubble tea shops everywhere were obliged to limit customers to one boba tea per order, hampering not just a product but a global mascot for Asian-American pride.
Cashing in on tapioca pearls
According to Alan Yu, founder of Lollicup, a restaurant chain as well a major supplier of North America's raw tapioca material, at least 20,000 stores in the U.S. specialize in this drink, and the tea is also sold in an additional 30,000 restaurants.
Even fast-food chains such as Sonic Burgers, Chilli's and Taco are Mr. Yu's clients for raw materials. They all aim to profit off boba tea which has gone far beyond the Chinese speaking diaspora to become a trendy drink among mainstream American yuppies and young people.
An immigrant from Taiwan and originally making a living in Los Angeles renting VCD and DVD Chinese films, Mr. Yu opened his first Lollicup store in 2000. Today, he is the CEO of Karat, a Nasdaq listed company and a supplier of tapioca starch as well as disposable dining ware. He even opened a "boba school," training people how to cook tapioca pearls and create boba tea with various flavors. Among his students are coffee baristas who hope to transition to this new beverage craze.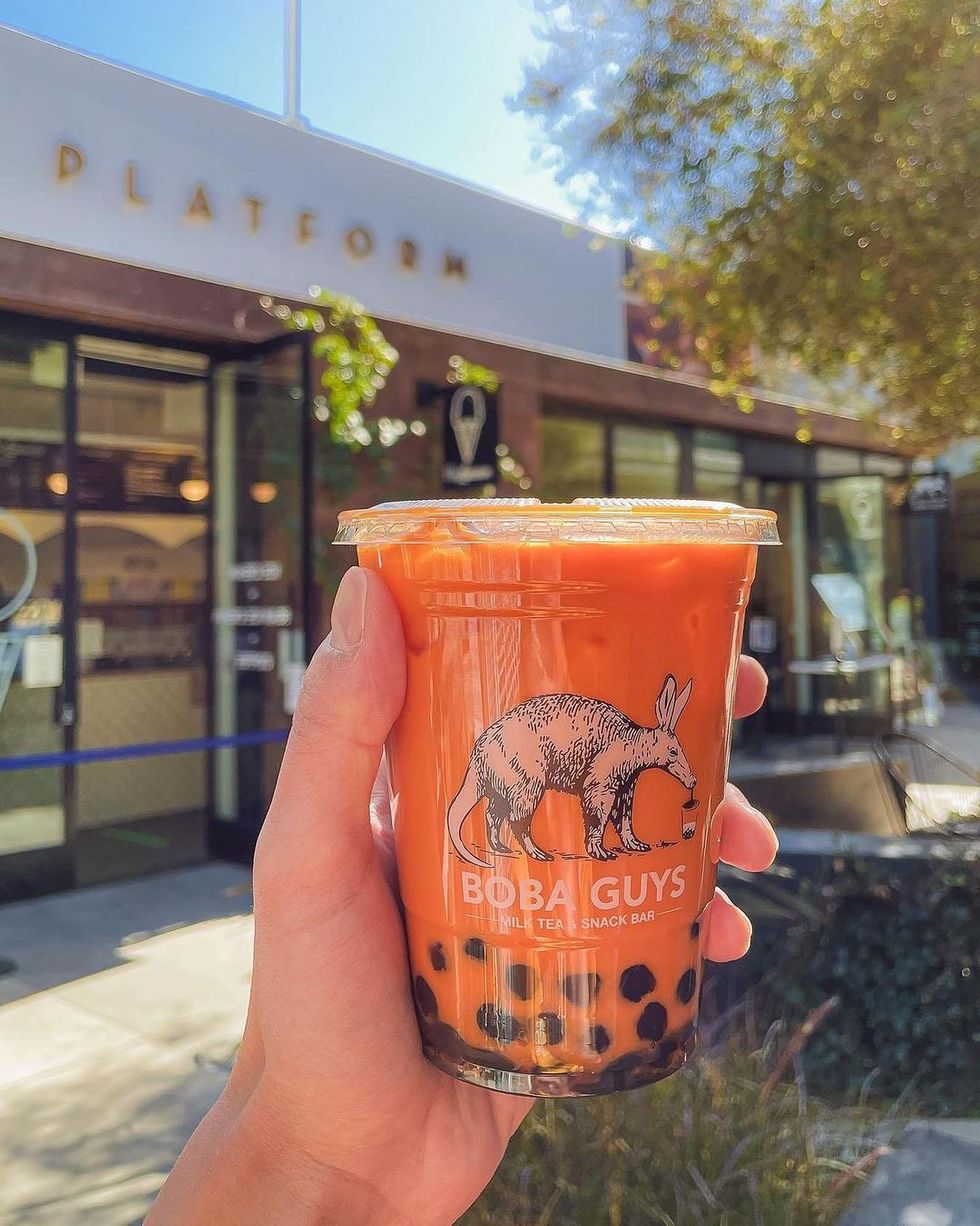 Boba tea represents a suburban, middle-class Asian American culture
Boba Guys
The Taiwanese-American immigrant history
According to Eileen Cheng-yin Chow, Associate Professor of the Practice in Chinese and Japanese Cultural Studies at Duke University, bubble tea has evolved from an identity label for Asian American youngsters into the online "Milk Tea Alliance," a group rallying young netizens from Hong Kong, Thailand, Taiwan, and Burma to protest against authoritarianism and advocate for democracy. Even when there were numerous hate crimes against Asian in the U.S., boba tea never became a target.
Ms. Zhang Xinwei, a doctoral student at the University of Helsinki specialized in the globalization of food, believes boba tea's global popularity is closely associated with Taiwanese emigrants and capital flow.
"At first, a part of these Taiwanese emigrants went to Hong Kong and China and took along the bubble tea shops, incubating the first batch of boba tea drinkers outside Taiwan. In turn, when their clients traveled abroad, they took this daily consumption habit with them to new destinations."
Through the tea, they started to ponder their identity.
After the 1960s, a batch of Taiwanese immigrants landed in the U.S. and earned their living in the catering business. Once a "hidden menu" item in Taiwanese-American run restaurants, bubble tea was only ordered by Taiwanese clients already familiar with the beverage. It was particularly popular with their offspring who introduced it to their peers, spreading the trend.
"Through the tea, they started to ponder their identity, to create songs and music videos about bubble tea. Just like Kpop, sushi, and Japanese ramen, boba tea also flowed into North America, becoming a cultural trend around the year 2000," Ms. Zhang commented.
Like bars for minors
Considered "bars for minors," boba tea stores are places where youngsters from migrant families can gather with their friends after school.
"Most of the boba tea stores' customers are teenagers. After going to SAT classes, they meet up there. This a place to cram for exams, but also a place for dates and being broken-hearted. In this space, they can feel a sense of belonging, which surpasses the meaning of milk tea itself as a drink," says Clarissa Wei, a foodie writer born in Taiwan but who grew up in Los Angeles.
Born in the U.S. in 1984, Philip Wang is a second-generation Taiwanese American and a renowned YouTuber who creates original Asian-themed films. He still recalls his teenage years when the term "Asian pride" was on everyone's lips. It was the moment when Japanese animation and South Korean pop music entered the U.S., and Asian Americans were increasingly asserting themselves as the export of Asian pop culture confronted a mainstream American culture that was overwhelmingly white.
"For the first time, boba tea made me feel there was a cultural product belonging to the Asian community in the United States", said Philip Wang, who also owns a tapioca tea shop called the Bopomofo Cafe.
More like Starbucks than chop suey
Xinwei recalls the theory of Krishnendu Ray, associate Professor of Nutrition & Food Studies at New York University: To a certain extent, the price of foreign food overseas is a reflection of the combined economic, military, and immigrant strength of the origin country. The higher the food's price, the higher the group's socioeconomic status.
Compared with the chop suey dishes associated with Chinatown's working class culture, boba tea represents a suburban, middle-class Asian-American culture. To Professor Eileen Cheng-yin Chow, bubble tea's trajectory in the U.S. "resembles that of Starbucks, not that of Chinese food".
Today, numerous tapioca tea stores are run by second generation Taiwanese or Chinese Americans who were born and grew up in the U.S.. Take Andrew Chau and Bin Chen, founders of the Boba Guys, as an example. As Americans, they leverage English dietary jargon and completely fit in with American middle-class consumption habits, such as using organic milk or vegetable milk. While the chain still relies on imports of cassava starch, the ingredient for making tapioca pearls, they possess their own manufacturing facilities.
More than just Asian eateries, these are American stores selling Asian food, continuing America's melting pot tradition in step with their personal trajectory.
In 2017, a New York Times article, "Bubble Tea Purveyors Continue to Grow along with Drink's Popularity," used words like "exotic" and "Far-East" to describe the tapioca tea drink, causing a huge uproar. Readers criticized the author, saying his concept of the beverage was stuck in the last century. A few days later,The New York Times was obliged to publish an apology piece titled, "Our Readers Call Us Out Over Bubble Tea. They Are Right," admitting that bubble tea has long been part of American culture.
Xinwei confirmed boba tea's heritage in a study where European consumers defined the tapioca drink as a beverage enjoyed by North American foodies, even if some of the subjects knew it originated in Asia. Xinwei finds the drink's American-ness crucial to its success: "If boba tea hadn't gone to the U.S. and become a part of the young American lifestyle first, I don't think it would have been globalized so quickly."
From Your Site Articles
Related Articles Around the Web